Welcome! So Glad You Have Joined Us! ❤ My goodness, we have so much fun & inspiring things to share with you this week! You should have landed here from Sheri's blog. To start at the beginning or to see the full list, you can go to Gina K. Designs Blog.
Today we are featuring the New Stamp Sets: Holiday Trees by: Beth Silaika, Pallet Christmas by: Melanie Muenchinger, & Christmas Script by: Emily Loggans. These sets are fabulous for so many wonderful cards. So many ideas and not enough time to make them all! LOL. There are also Two New Background Stamps – Tall Pines and Tall Birch. Then if that isn't enough, Gina K. has a couple of new & Gorgeous Stencils – Snowflake Mandala and Stellar Snowflake. Then with a qualifying purchase you will receive the Seasonal Greetings Incentive Stamp Set for Free.
Be sure to comment on all the blogs for your chance to be in the drawing to Win a $50.00 Gina K. Designs Gift Certificate. The Winner will be announced on Gina K. Designs Blog.
There are so many fabulous sets and stencils I couldn't hardly decide what to do first! 🙂
From the Release Party: Holiday Trees, Pallet Christmas, & Christmas Script Click below to see all three.
Here is a card made using the New Stamp Set Holiday Trees by: Beth Silaika I have really enjoyed playing with this set. As soon as I saw it I knew I wanted to make some Poppin' Pink Trees. So this is how it turned out! ❤
I lined up the tree in my Misti and stamped that fun tree 5 times to fit on the 2 1/8″ x 5″ White Layering Weight Panel with a Black Onyx under it. The Greeting is stamped in Obsidian Amalgam Ink on a 1″ x 3 6/8″ panel and backed with Black Onyx Card Stock attached with foam squares over the ribbon. All this sits on tip of a 4″ x 5 1/4″ White Layer that was stamped with the Diagonal Stripe Background stamp Inked up in Popping Pink Electro Pop Neon Ink.
Here is the supplies I used to make this fun Christmas Card.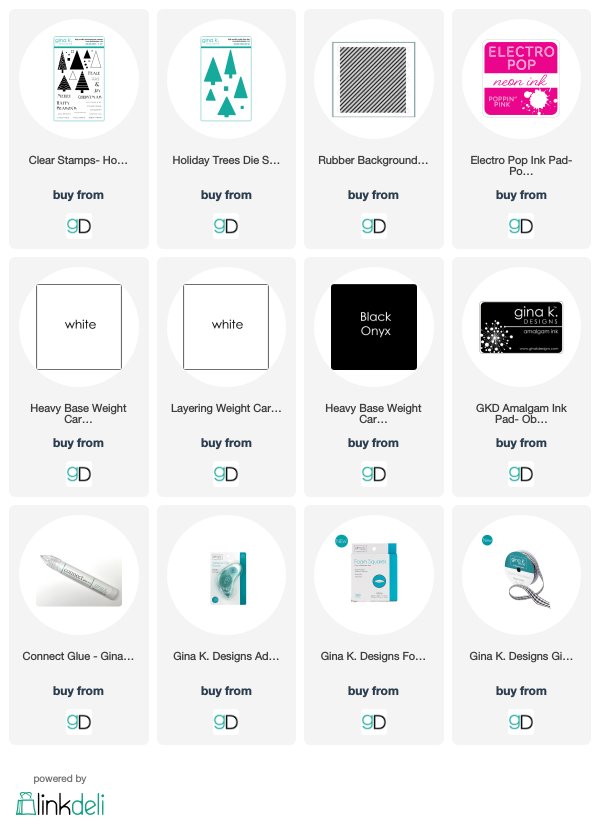 https://linkdeli.com/widget.js?1559654439292
Then I pulled out the New set Pallet Christmas by: Melanie Muenchinger along with her Perfect Pallets set. All the little images in this set allow you to create a wonderful scene and of course pair with the Perfect Pallet set for some really great cards! Lots of ides for this set!
I Love this Pallet set and the Pallet Christmas has been fun to create all kinds of cool cards! I did the Ink Dragging Technique that Gina Shared recently in a video. After I stamped the Line art image of the pallet in Warm Cocoa, I used the solid image of the same pallet and used Sandy Beach to drug across the stamp. Then I did a little dragging of Kraft on the ends of the stamp so it would be a little darker. On the little trees I did the same technique. Stamped in the Greeting & Snowflakes then used the Fancy Labels Dies to die cut this panel. Added some twine and then popped it up on a embossed panel.
Supplies Used for this card: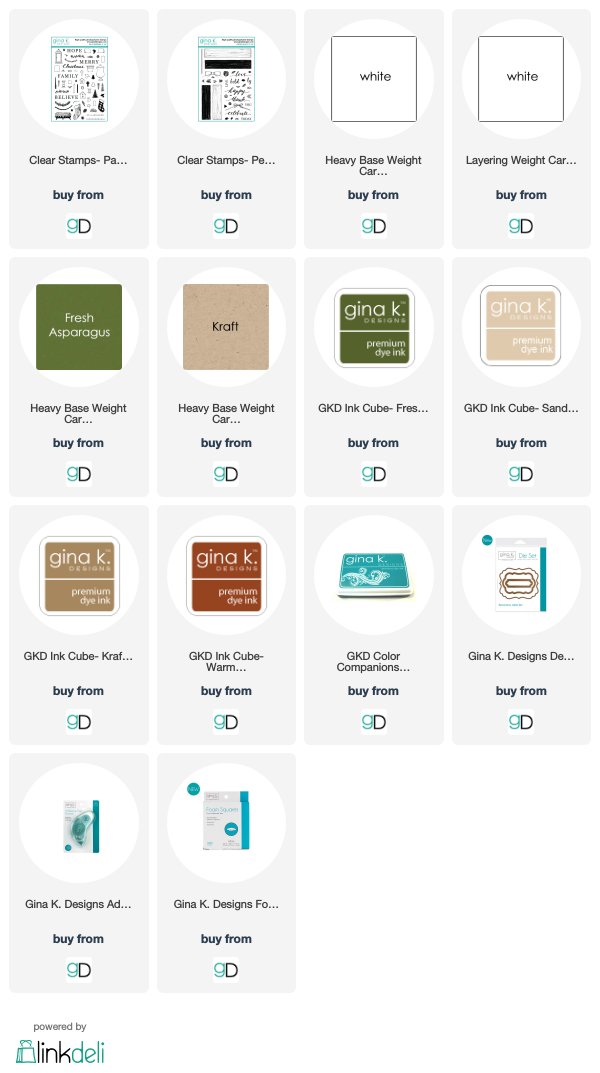 https://linkdeli.com/widget.js?1559654439292
I couldn't resist using the Christmas Script stamp set along with the Tall Pines Background stamp set to create a snowy scene! I first made some snow hills by lightly blending some blue ink around the edge of a mask. Moved the mask up a bit and blended more ink. Then blending ink around the edges and towards the center. Stamped the background stamp using the Ink Dragging Technique and some Fresh Asparagus Ink. I used a gel pen to add some snow to the trees. Put the panel in my Misti and stamped the Greeting with Obsidian Amalgam Ink. 🙂
Here are the goodies I used for this card: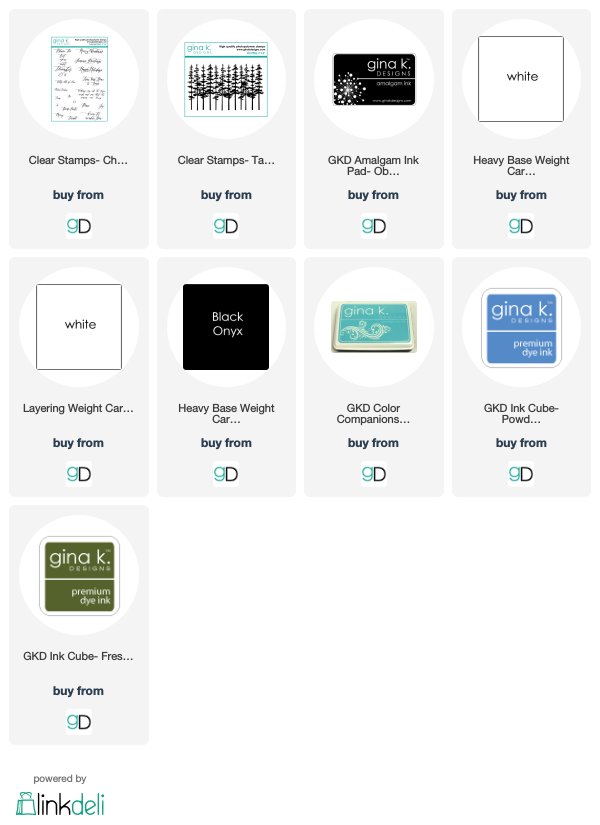 https://linkdeli.com/widget.js?1559654439292
I Love this Glitz Glitter Gel! Here are the items used on these two cards!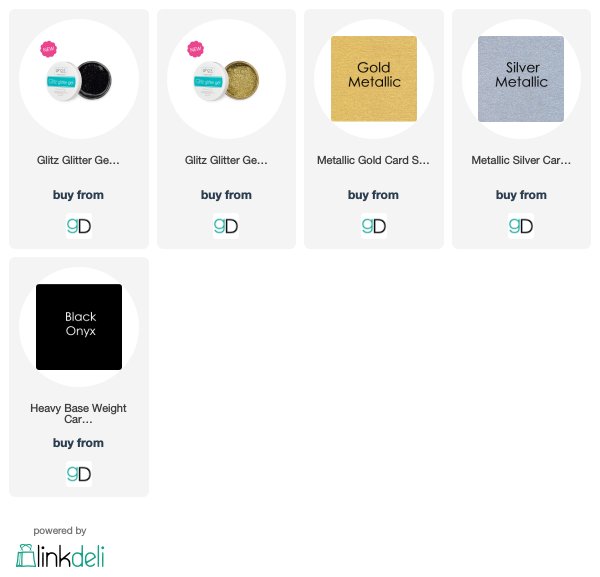 https://linkdeli.com/widget.js?1559654439292
I hope you have enjoyed your visit!!! Thank you for stopping by and spending a little time here on my blog! ❤ Next up on this journey for inspiration is the very talented Cathy (Cat). She always has some very creative cards to share! 🙂 ❤
Be sure and leave some love on all the blogs for your chance to win that Gift Certificate. To Shop Click > Gina K. Designs Have a great day! (Hugs) Karen