Hi Everyone and Welcome to my Blog. 😊❤️
This month I am hosting the Monthly Mix Challenge over at Gina K. Designs Blog.
I thought it would be fun to do some ink smooshing and share two ways to do it. The Challenge is to do some ink smooshing and make it a fall themed card. I used my Gina K. Designs Mini Ink Cubes for this technique and some inexpensive watercolor paper.
I gathered my materials: ( I will have a link down below the cards so you can see all the times used for these cards. )
Stamp Sets, Ink Cubes, Dies, Card Stock and Watercolor paper, Glue and Tape Runner and Bling.
Here is how I put it all together.
I started out smooshing my ink cubes on my TH glass mat (you can use many different surfaces to do this on. Like a piece of acetate, glass, mix media mat, or anything that you would use to do watercolor on that is waterproof.) Then I smooshed my ink cubes in a area that was near the size of my piece of 4 1/4″ x 5 1/2″ watercolor paper.
Smooshed 4 different colors on my mat.
Spritzed with water so the colors would spread out some.
Then placed my watercolor paper over the wet ink. Rubbed my fingers over the paper and let it set for several seconds.
Then I lifted the paper…… and I am always surprised at the results. No two are ever alike! 😍
Giving it time to dry while I work on the second piece.
On This panel I used a stamping block I have had in my stash a long time. You can used any block you have. A round would one would be cool. I may have to try that one myself. ❤️ I smooshed the lights color first. This is Prickly Pear.
Then I added the Tangerine Twist sprinkled around.
Finished it off with smooshing the Fired Brick and the Coral Reef ink cubes.
Spritzed with a bit of water.
Once I got the ink wet I flipped my block over and placed it on the watercolor panel.
Gave them both plenty of time too dry.
Then Cut out with the Master Layouts Dies 2
Used the Skeleton Leaves Mini Stamp set & the Forever stamp set for the greeting on the first card. Then stamped the word Forever on the second one and used the Grateful Die.
Here are all the items used for these two cards!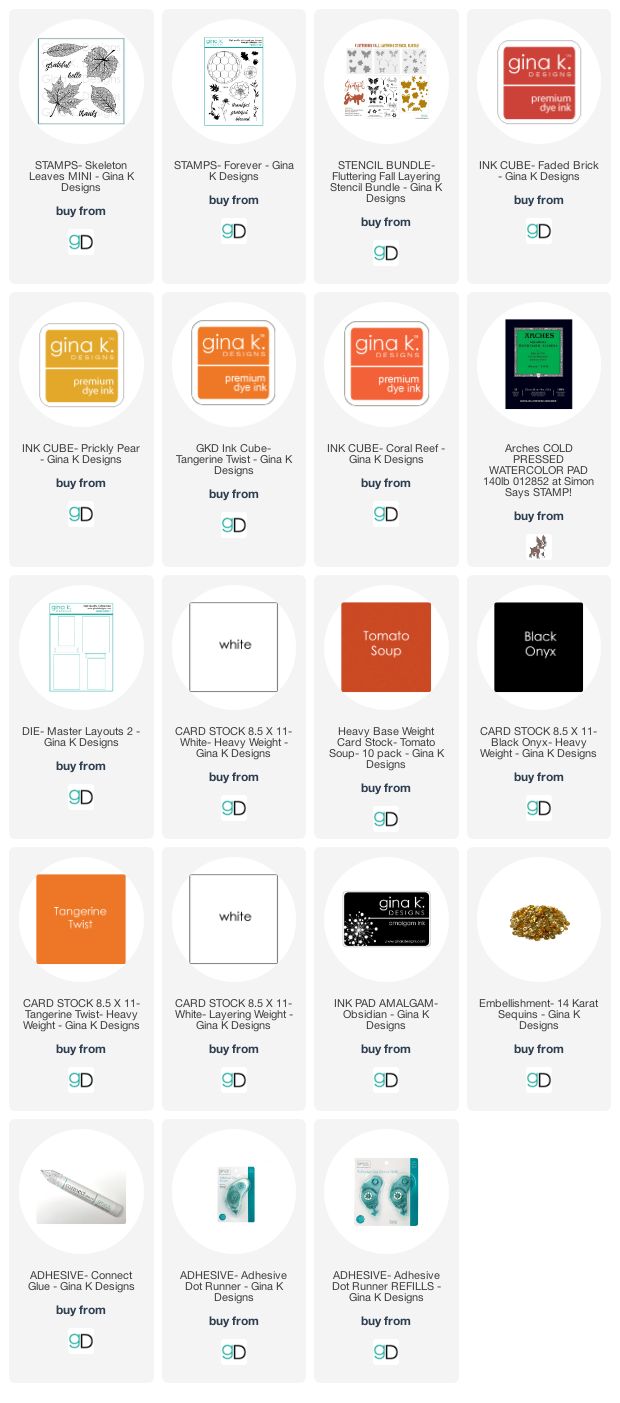 https://linkdeli.com/widget.js?id=f5e8378456858c916708