Hi Friends! Welcome to Gina K. Designs August Release Blog Hop Day 1!
We are so glad you are hopping along with us today!
Also join us tomorrow and Wednesday. We have so much to share so a three day hop is the only way we could fit it all in! ❤ Today we are Featuring 3 new & amazing sets! The sets today are Beautiful Butterflies by – Melanie Muenchinger, there is also coordinating dies. Wildflowers & Weeds by- Lisa Hetrick, there is coordinating dies for this set as well. The third set for today is Grow Positive Thoughts by – Hannah Drapinsky. Here is a look at the Stamp Sets and Die Sets.
Would you like a chance to Win a $50.00 Gift Certificate from Gina K. Designs?
All you have to do is leave some love behind on the blogs as you hop along! A random winner will be chosen
and it will be announced over on Gina K. Designs Blog.
These sets are Fabulous and so much fin to create with!
Looking forward to seeing all the fabulous cards that you all will make with these sets!
Here are my cards featuring these stamp and die sets!
First up I have Beautiful Butterflies from Melanie Muenchinger: This set will be back in stock soon.
I had fun creating this card. I used my White Pigment Ink to do these techniques. I saw Jennifer McGuire do these techniques and thought it would be pretty for the butterfly dies. I die cut the butterflies in Turquoise Sea and then glues them on a panel and ink blended the White Pigment Ink all over. Then I took the New Fizzy stencil from the Peace, Love & Sushi Card Kit and ink blended white over it and cut a panel for the card. Die cut the tag in White layering weight and stamped the greeting in Obsidian Amalgam ink. Popped it up and put the card together and added a die cut butterfly to the inside.
Blue Layer with butterflies – 3 7/8″ x 3 1/4″
Fizzy stenciled panel – 3 7/8″ x 1 3/4″
White strip – 3 7/8″ x 1/16″
The Black Onyx layer behind that is 1/8″ larger 4″ x 5 1/4″
card Base – 4 1/4″ x 5 1/2″
Here are the products I used to create this card! ❤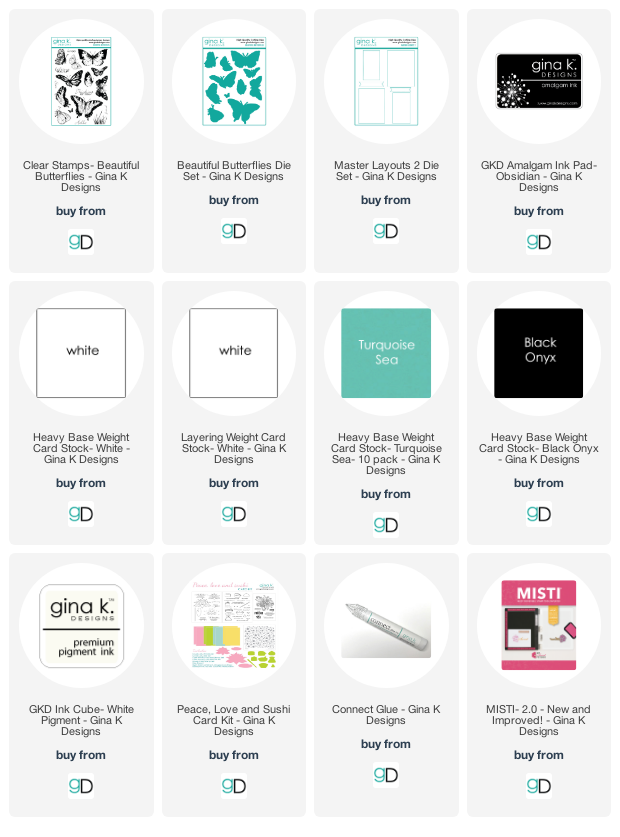 https://linkdeli.com/widget.js?id=f5e8378456858c916708
Next is Wildflowers & Weeds by Lisa Hetrick :
I could see this card in my head and I had to get it on paper. I stenciled the Funky Flourish Stencil in Plum Punch ink over a little Plum Punch Ink Blended area. Then I stamped the images on Layering Weight Card stock and die cut them out. Die cut the ink blended stencil panel with the Master Layouts 2 dies and also the Black Onyx layer. Using the HELLO die I lined it up where I wanted to cut it and then ran it through the die cutting machine. I saved the cut out words for another card, and die cut several HELLOs out of White Heavy Base Weight Card Stock then glues 3 layers together. I laid the pansy where I wanted to attach it on top of the panel with the word hello cut out, I then laid the Hello die back in the cut out word. Used some purple tape to hold it then ran it through the die cutter. So now it fits around the word nicely. Glued everything together and popped up the top of the flower but used Connect glue to hold it around the H of Hello.
Here are the Gina K. Designs Items I used for this card: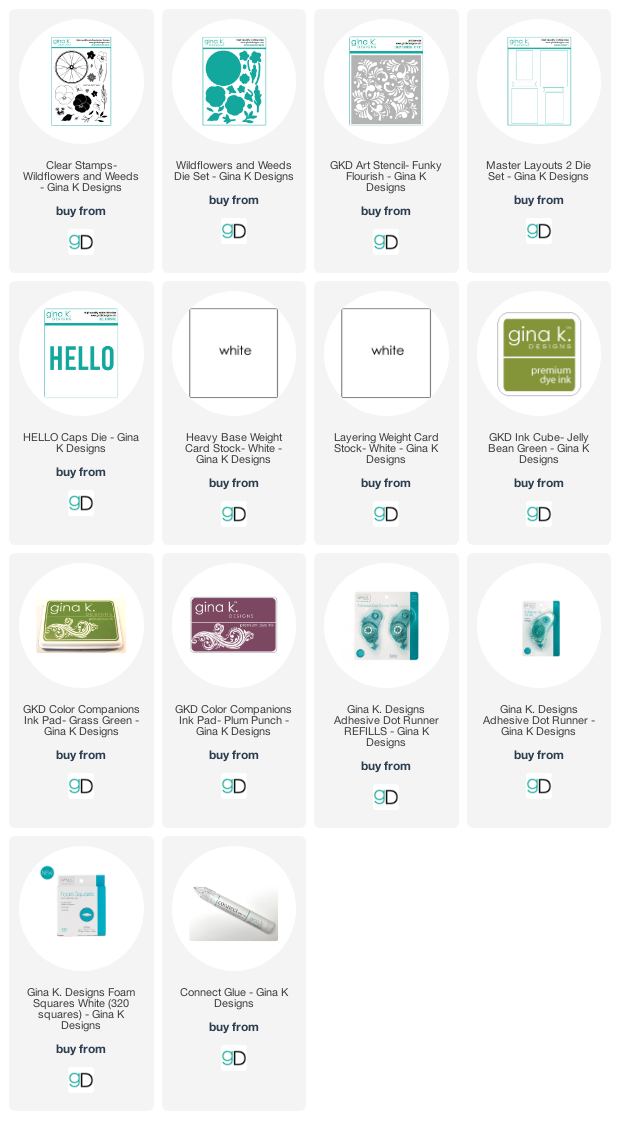 https://linkdeli.com/widget.js?id=f5e8378456858c916708
and for my last card I used Grow Positive Thoughts by Hannah Drapinsky :
For this card I started with a piece of watercolor paper and smooshed ink on a no porous service, (My glass mat) and then spritzed with water until the ink was real fluid. The laid my paper on top and kinda tapped my fingers around on it so the paper would make good contact with the ink. Let it sit for a minute then lifted it. Let it dry real good then placed in my Misti and then positioned the image and stamped with the Obsidian Ink. I stamped it several times as the watercolor paper is rough and the image needs several inkings. Then I used my zig clean color markers to color the image. I did it really loose and let color spin out of the lines! ❤
Here are the Gina K. Designs items I used for this card: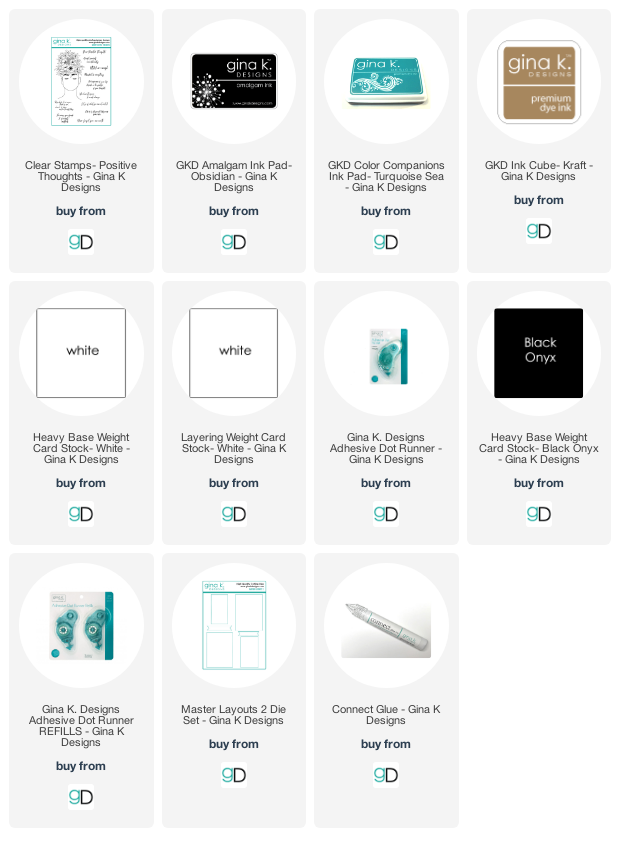 https://linkdeli.com/widget.js?id=f5e8378456858c916708
I hope you have enjoyed the hope so far and after leaving some love behind for your chance to win that Gina K. Designs Prize, you can Hop on Over to Check out the Fabulous Inspiration that I know Mindy Eggen has waiting for you!
These items are now available at > Gina K Designs. Enjoy all the Inspiration and have a great day! ❤ Remember to take a little time to get inky!
Hugs, Karen ❤